The Venue - UEL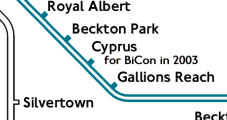 BiCon 2003 is being held at the University of East London's new Docklands Campus. Built in 1999 it has a restaurant, shop for food, cash point, two bars and it overlooks Royal Albert Dock beside the Thames. Every bedroom in the accommodation has an en-suite bathroom with its own shower, sink and loo. The rooms are in flats sharing between five people and have a fully fitted kitchen with equipment supplied as outlined below.
The venue is served by Cyprus DLR station (in Zone 3), London City Airport, and is a mile and a half from the eastern end of the North Circular, so it's easy to get to.
An important message about accommodation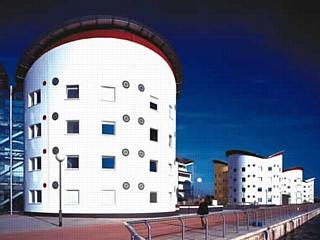 "BiCon Towers" at UEL
If you are planning on staying on-site at BiCon, you will have to book and pay for your accomodation by August 1. After that time we will be unable to arrange any more on-site accommodation.
A few quick notes on room allocation:
We'll be sorting it out finally after August 1st, when all accommodation bookings will be in, so any more requests need to be in by then - email Katy on bicon@different email deleted. Until then it's all provisional, except that everyone who needs a ground floor or mobility flat will be accommodated.
All rooms are non-smoking under University policy.
Bear in mind that we don't have any way of knowing how tidy, vegan, nocturnal etc your flatmates will be - most people don't provide this information on their booking forms! So if you request to live with all vegetarians, for example, you'll need to provide us with the names of four other vegetarians you want to live with, or hope that four other vegetarians have also contacted us with the same request. (Nobody has - just a comment.)
We've had a few enquiries about the kitchen equipment at BiCon. Each kitchen (shared between a flat of five) has the following:
Electric oven
Electric hob
Kettle
Two fridge-freezers
Sink
No microwave, though, I'm afraid, nor a toaster.
Crockery and cutlery as follows: 3x pans, 1x frying pan, chopping board, knives, cutlery, plates, side plates and bowls, colander, tin opener and slotted spoon. There was some confusion over whether crockery was going to be provided, as originally the venue had said that it wasn't, but it is.