BiCon News Archive
18 May 2003
BiCon for Sexual Freedom!
The
Sexual Freedom
Coalition
BCM Box Lovely, London WC1N 3XX.
"Promoting reform of Britain's silly old sex laws"
The BiCon team are bringing a stall to the Sexual Freedom Coalition's Let's Start the Real Sexual Revolution! event. This is on Saturday 7th June from 2.30pm-6pm at The Round Chapel, 1d Glenarm Rd Lower Clapton Rd, Hackney E5 0LY (On 38 Bus Route. Trains: Hackney Central - North London Line, Hackney Downs - from Liverpool Street)
There's a £5 (£2 concs.) entrance fee for the event which features "a jam-packed programme of diverse speakers including politicians, historians, erotic performers and sexual adventurers, giving insight on true sexual freedom and the secrets of acheiving a liberated, joyous society".
As a bonus, if you turn up, register and pay for BiCon while you're there, we'll let you do it at the discounted rate!. Do you need any more encouragement... no?... we'll see you there then!
Promo Fever
With people really beginning to look forward to a summer of fun and excitement, now is the time of year we most need to promote BiCon.
We'd really like your help here, to see if we can reach out to every town and city across the UK and give every lonely bisexual lad or lass the opportunity to join in with the biggest Bisexual event Britain's yet seen.
We'd like you to take a look at the promotional material we've put together and think where you could display some postcards, or send a press release, or put a logo and a hyperlink online. And then tell us about it!
We'll tell your success story here, and when you come to BiCon (unless you want to be 'umble) we'll thank you again and laud your praises!
---
11 May 2003
Lizzy's first BiCon
With so many people already booked we're anticipating large numbers of first-timers at this years BiCon. With that in mind we're making a particular effort to make new people feel welcome. This page is our starting point, much more will follow.
Click here for one person's account of their first BiCon.
Other places to go
We're not the only BiCon this summer, other regions are celebrating bisexuality too.
First, there's EuroBicon II in Dublin ...
Or, if you happen to be in California during BiCon weekend...
August 21-24, 2003. San Diego, CA.
---
4 May 2003
An important message about accommodation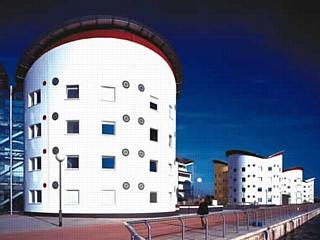 "BiCon Towers" at UEL
If you are planning on staying on-site at BiCon, you will have to book and pay for your accomodation by July 11. After that time we will be unable to arrange any more on-site accommodation.
BiCon's Helping Hand
BiCon's Helping Hand fund exists to help people afford to come to BiCon 2003. The first meeting to decide on how the fund is allocated was a great success and we were able to offer help to everyone who has applied so far.
If you think you, or someone you know, cannot afford to attend BiCon, please let us know - we want to help. Simply email us at helpinghand@deleted and let us know what kind of help you need.
---
1 May 2003
No more discounts
The deadline for discounted registrations has past. Sixty nine people showed their support for BiCon 2003 by registering early. The BiCon 2003 team would like to express our sincere thanks to each and every one of them.
---
21 April 2003
Your friendly webmaster is just off for a romantic holiday in Paris, so I'll leave you with version one of the BiCon-promoting So What Sort of Bisexual Are You? quiz. Do pass it on!
---
13 April 2003
Promotional Postcards
Promotional Packs arriving nationwide
We've just sent out our first wave of promotional packs to Student Unions and other friendly organisation. The packs include the rather fun postcards we show here.
If you have somewhere you feel might reach bisexual people who would like to know about BiCon 2003, contact us and we'll let you know how you can help.
---
6 April 2003
Registration watch: 28 and counting...
Party Time
Woohoo. We're arranging late licenses for Friday and Sunday night (not Saturday though, the council won't let us have three nights in a row) and plans for the spectacular BiCon Ball on the Sunday night are materialising in grand showers of pink and purple fairy-dust!
---
26 March 2003
Pets at BiCon
We've had some enquiries about whether you can bring your dogs to BiCon. We're sorry but we can't allow animals onsite, except for registered assistance animals. Furries remain welcome, of course.
Parking
Also to answer your questions about car parking, there is a dedicated on-site car-park which can accomodate up to 200 vehicles. Remember though that we are very close to Cyprus DLR station and you may have an easier time parking further out and using DLR to reach the venue.
Day Registration
For those of you who won't be attending the entire event, single day registration rates for BiCon 2003 will be available at the main desk, prices as follows:-

| | | | | | | | | |
| --- | --- | --- | --- | --- | --- | --- | --- | --- |
| Income | Unwaged | < 15k | 15-20k | 20-25k | 25-30k | 30-45k | >45k | Organisation delegates |
| Per day | £12.50 | £22.00 | £28.00 | £34.50 | £40.50 | £47.00 | £59.50 | £62.50 |